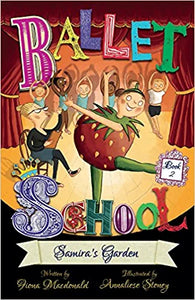 Ballet School: Samira's Garden
$9.00

$9.00
---
---
Welcome to BALLET SCHOOL, the series that follows

 
the fortunes of a group of working-class students at an inner-city dance academy!

Join this diverse group of young dancers as they form friendships, consider their futures, and prepare for the end-of-year shows.

Class is about to begin at Rosewood Ballet School! Join Willow and her fellow students as they overcome disaster, injuries, and last-minute nerves to put on a unique production of 
The Nutcracker
 in celebration of their friend Samira's beautiful garden.
 
Contains illustrations of dance poses, a glossary of ballet steps, and a comic strip version of 
The Nutcracker
.
---
We Also Recommend